Happy Sunday night to everyone! Since I couldn't get any Halloween mani's done, I figured I'd at least do a mani that felt very Fall.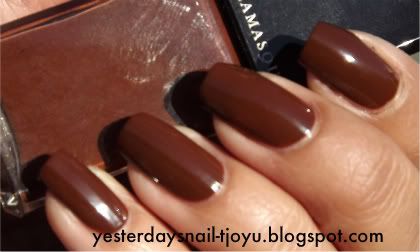 1 coat of Illamasqua Fabricate. I've had this sitting in my untried for about a year or maybe even longer. A wonderful international friend sent this to me as a kind of joke because I said I liked wearing "ugly" colors sometimes. I bet she didn't think I'd ever wear it! It's actually a very warm, chocolate cream with a tiny touch of red to it. Pretty and warm...just perfect for fall.
Next, I added 1 coat of KleanColor Chunky Holo Poppy. I wish I would have taken a shot of this outside to show a better representation of the color shift. It goes from red to orange to yellow/gold to green. Beautiful!! This was taken under a small OTT light.
Finally, I added 1 coat of KleanColor Chunky Black Holo. I love that this gives the same red thru green color shift but the glitter size is bigger.
This mani really makes me feel like I'm in fall with all the warm colors. I think my favorite part of it is the bright, almost neon lime green color it has under certain light conditions.
As for application, the Illamasqua applied like a dream! Full coverage with a single coat and super glossy without a top coat. The KleanColors were a bit thick but still easy to use. They also had that "unique" KC smell to them...very strong and chemical-y.
I'd also like to take a minute to ask for a pardon on my not so crisp pictures. I am using a new camera and still trying to get used to the settings.
Have a great night and hope you have a fun and safe Halloween tomorrow! Are you dressing up? If so, as what? And what will your mani be?
:o)