I am keeping this separate from my nail polish blog sale because I don't foresee updating as often as I had updated my polish blog sale.
All items are as stated. All prices are firm. $10 minimum purchase. Shipping is $2.50 per. for the first item, $0.50 for each additional item. Add DC for $0.50. International shipping is available at the actual cost of shipping. Paypal invoices only!! I will not accept "gift" payments. Sanitizing will be left up to you. All items have been kept in a Helmer in a cool, dry place.
Please email me at yesterdaysnail AT gmail DOT com ONLY! DO NOT LEAVE COMMENT ON THE BLOG AS I WILL NOT RESPOND TO IT. I will not hold items for longer than it would take to complete the transaction. Do us both a favor and don't request something only to back out by not responding to emails. It's a waste of both of our time.
Newly added but not Pictured:
BNIB Nerium AD Age Defying Treatment 1 oz $45 (I have 2 BNIB bottles available)
BPAL 5ml's: (All bought in Fall of 2011 and have aged very nicely)
Shango -used once $12
O -used 5x $10
Azathoth- unused $12
NYX HD Photogenic Concealer in Medium, used 3x $2
Maybelline Dream Fresh BB Creams, both used 3x $7 for both or:
Medium Sheer Tint $4
Medium/Deep Sheer Tint $4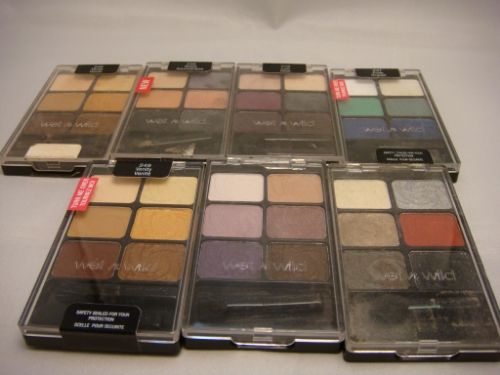 WnW 6 pan palettes. These have all been D/C'd. Prices as listed or $18 for the lot.
Top: L-R
Vanity: moderate usage but no pan showing, designs still visible in pans $2
Greed: Minimal usage, no pan showing, designs still visible in pans $2.50
Lust: Very minimal usage, no pan showing, designs still visible in pans $2.50
Pride: Extremely minimal usage, 3 colors untouched. $3*SOLD*
Bottom, L-R
Vanity: Still sealed.$4
*sold*
LE Holiday purple/plum palette. All colors swatched except the darkest shade (untouched) $5
LE Holiday neutral palette.Minimal usage. Very slight dip in the taupe shade but not close to pan. $4
*sold*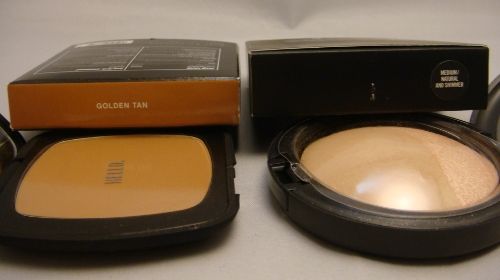 Bare Minerals Ready SPF20 Foundation compact: Golden Tan BNIB $24
MAC MSF Medium/Natural & Shimmer BNIB $30
e.l.f. Disney Villains LE makeup kits. All new, never used. $17 each.
R&R single eye shadows, usage as shown. This line has been D/C'd. $45 for the lot or prices as listed.
Top: Electric $10, Envy $15
Bottom: Chronic $12, Revenge $12
Left: Sleek Primer palette. 2 colors swatched as shown, box included. $8
Right: Sleek The Original palette. 5 colors swatched, usage as shown, incl. box $8
L'Oreal H.I.P. kohl eyeliners. All have never been used. $4 each or $20 for the lot.
L-R: black, navy, teal, brown, burgundy, gold
NYX Extreme Lip Cremes: Dolly Girl, Buttery Nude,
Strawberry Jam
. All swatched on hand x1.
$3 each or $5 for both
Korres Lip Butters, usage as shown. Wild Rose $5, Pomegranate $3 or both for $7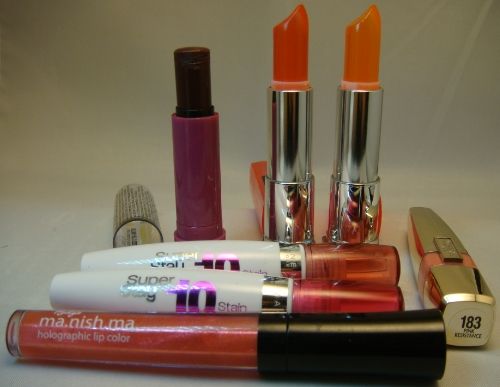 C.o. Bigelow Lemon&Blackberry balm $0.50
Maybelline Raspberry Ice, used 2x, $4
Maybelline Citrus Slice, used 2x $4
Maybelline Stain Gloss: Mauve Dream 1x $3
Maybelline Stain Gloss: Berry Heavenly 1x $3
Manishma Holographic lip color, used 2x, $2
L'Oreal gloss stain Pink Resistance, 1x $4
L'Oreal gloss stain Coral Tattoo opened but unused $5 (not pictured)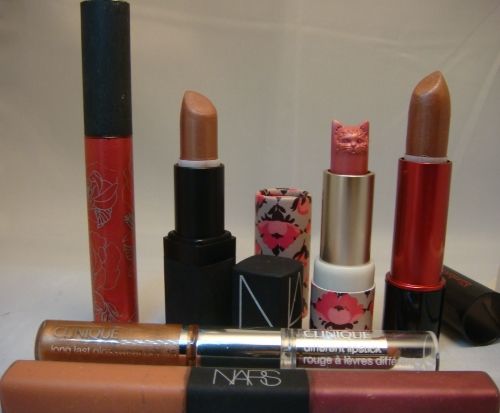 Back, L-R: Kat Von D Fierce Red gloss, used 3x, $3
Nars Viva Las Vegas lipstick, 75+% remains, $8
Paul & Joe Lipstic C #068, BNIB $10*SOLD*
EA Caramel Glaze, used 2x, $2
Front row: Clinique Sunset/Tenderheart duo, never used, $4
Nars gloss duo Giza, Boogie Nights, both colors swatched on hand x1, $7
MAC Glimmerglass: Black Bling, 50% full (it has been laying on its side for several months) $9
not pictured: MAC Glimmerglass: Blackfire, 50% full $7
MAC WW Emancipation lipglass, SIB, used 3x $15*SOLD*
MAC Viva Glam lipglass GaGa 2,swatched on hand 1x, no box $14
MAC Lustre Honeyflower lipstick D/C'd color, 80+% remains, $8
MAC Marilyn Monroe packaging Pure Zen, BNIB, $20
L-R: Pink Truffle, Cherry Tart,
Sugar Plum
, Berry Smoothie, Creme Brulee, Brown Sugar,
Lollipop
, Fig Jam,
Red Velvet
. All twisted up to show usage, $2 each or $10 for the remaining.
BE makeup brushes. All washed x1. $20 for the lot or singles as listed.
Handy Buki $7
Flawless Application Face $8
coastal scents angled face brush dupe $3
mini Flawless Face, BNIB $5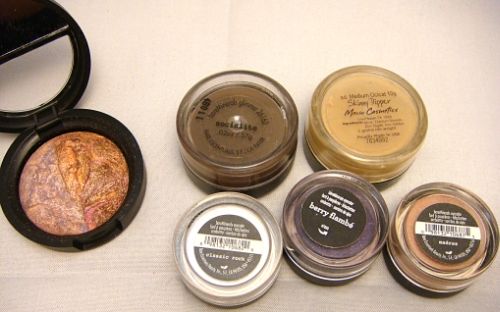 Laura Geller Baked Marble eyeshadow: Amethyst/Starburst. Both colors swatched 1x, D/C'd color $10
B.M. Socialite shadow, older packaging, d/c'd color, full size, 75+% remains $5
Meow Cosmetics Med. Ocicat Skinny Dipper contour color, 75+% remains, $3
B.M minis, Classic Rock, Berry Flambe, Madras. All swatched 1x, $3 each, $8 for all 3.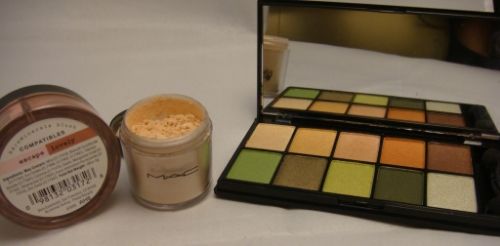 Bare Minerals blush duo Escape/Lovely. Both colors used approx 3x, $7
MAC Fairylite pigment. Extremely rare, VHTF, 80+% usage as shown, $22
NYX Secret World palette, most colors untouched, usage as shown, SIB $4
Philosophy, NIB, never used. Both for $10 or price as listed.
Art of Blushing: Pink Dreams $5
The Supernatural coloring book $6
Coastal Scents 12 pan magnetic palette. Includes the 3 discs for non magnetized pans as shown in top, right wells, a repressed NYX taupe shade, a depot of an NYX matte black $4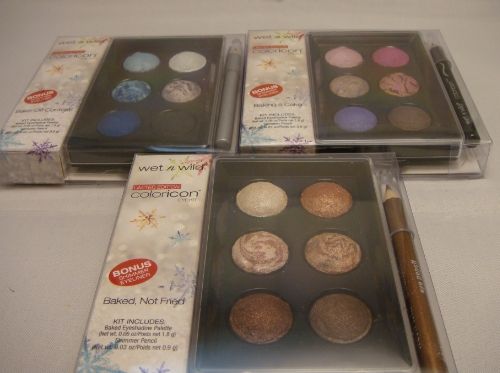 WnW Limited Edition Color Icon baked palettes, all BNIB. $7 each or $18 for all 3.
Bake Off Contest (blues), Baking A Cake (pinks/plums), Baked, Not Fried (nude/brown)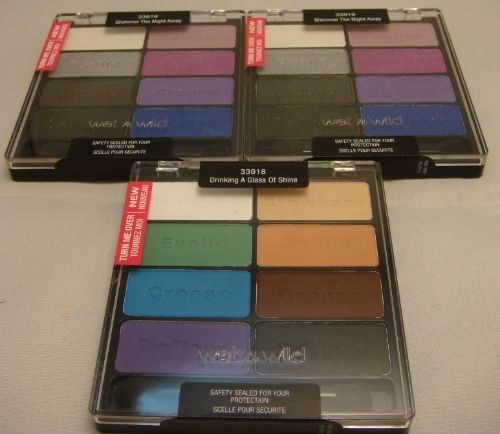 WnW LE 8 pan Color Icon palettes, never used, still sealed $7 each or $12 for the remaining 2.
Shimmer The Night Away (2 available)
Drinking A Glass of Shine (aka I love matte)
*sold*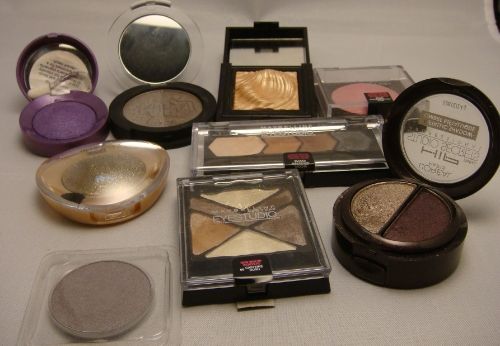 eyeshadow/blush mixed lot. $25 for the lot.
bourjois Violet Absolu 2x,$3
Kat Von D Livewire duo 3x, $5
Sephora Prisma Chrome: Shimmery Sand D/C'd color, 2x $7
Maybelline blush, LE Pressworthy Pink, 1x $4
Milani LE eyeshadow: Antigua 1x, $3
Maybelline LE Eyestudio quad: Makeover Mocha, 2x, $4
stila single eyeshadow: Shore, 1x, $3
Maybelline Eyestudio quint: Caffeine Rush, 2x, $3
L'Oreal H.I.P Electrified metallic duo, taupe used 5x, purple 1x $3
blush and powder mixed lot. $6 for the remaining lot.
Milani Amber Nectar illuminating face powder, 2x, $3
PF Happy Booster in Beige, used approx 10x, $3
PH Happy Booster Light Bronzer, used approx 5x, $3
MAC MSF Medium/Natural & Shimmer. Shimmer completely gone, matte has 25%, good for B2M $5*SOLD*
Starry Precious Mineral blush: Natural Glow, 3x, $1
WnW Color Icon Bronzer SPF 15: Reserve Your Cabana, 2x $3*SOLD*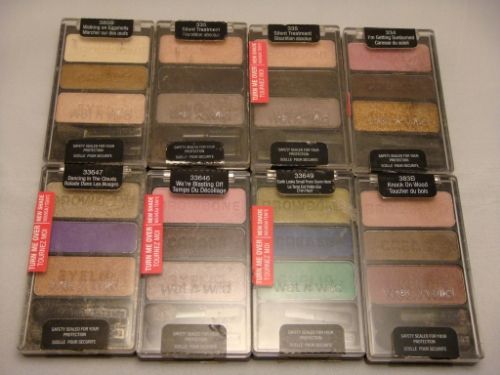 TOP:
Walking on Eggshells, minimal useage $1
Silent Treatment, moderate useage, no pan showing, $0.50
Silent Treatment, minimal useage $
1
I'm getting Sunburned, used 2x $1.50
Bottom: LE Dancing In The Clouds, taupe shade used 5x, slight dip $3
LE We're Blasting Off. Browbone shade unused, other 2 swatched 1x, $4
LE Earth Looks Small From Down Here. Browbone and crease shades swatched 1x, eyelid unused $4
Knock on Wood, used 2x, $1
...or take the above remaining trios for $11 (this does not include the 2 not pictured)
ALSO AVAILABLE BUT NOT PICTURED:
New, still sealed LE Dancing In The Clouds trio $5
New, still sealed LE Fly Me To The Moon trio $5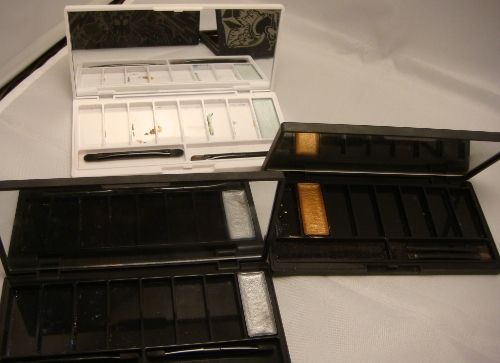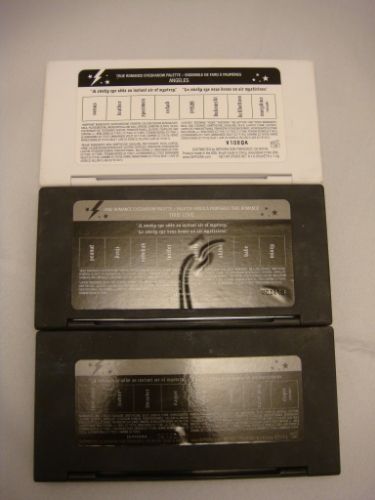 Empty Kat Von D palettes with creme shadow remaining:
Angeles (incl box) $4
True Love $3
Metal Orchestra (incl box) $4
Take all 3 for $10
Thanks for looking!