Happy Sunday or Happy Easter. Whichever salutation you are using today, I hope you are having a fab day!!
Here is my Easter day mani...kind of. I had planned on wearing this today but took it off last night because I wanted something else!
I started with a base of 2 coats of Quirius Lucy Diamond. This is a gorgeous sky blue with just a very light touch of fine shimmer. This is without a top coat.
Next, I added some glitter...
2 coats of Ulta Pinata Yada-Yada. I am assuming this is meant to be a Happy Birthday knockoff. I don't have HB to compare it to but I do like the look of this colorful, multi-sized glitter.
And the finishing touch...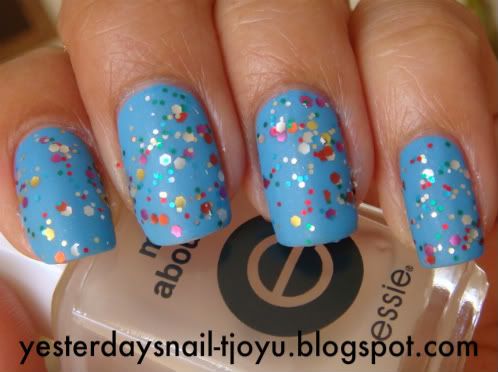 1 coat of Essie Matte About You.
I saw a similar mani on MUA a few weeks ago and decided I had to duplicate it! Icannot for the life of me find it again though to make reference to.
Have a great upcoming week and I hope to have a few more new posts up this week!