Whoa! It's been 14 days since my last post...errr, sorry? I'll have to admit, it is a bit from laziness and also from lack of time these days. I'm working 12 hour shifts now too so that surely doesn't help. Enough of my whining...on to the polish!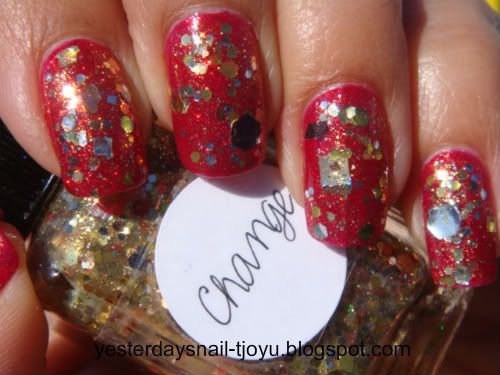 2 coats of Color Club Santa's Cinnamon topped with 2 coats of Lynnderella's Change.
Now, Santa's Cinnamon was a no brainer. Gorgeous, sparkly, micro glitter which was opaque in 2 coats. The kicker to this one...it smells like Red Hots or Hot Tamales!! It had that lit from within type of glow to it as well. Well done, Color Club!
Then we have Change. I was honestly going to pass on this one because I thought...what could be so unique about metallic glitters in a shimmery gold base? I should have known better and glad I didn't pass on this gem. So many different shapes, sizes and colors in a very shimmery yet sheer gold base. I loved the randomness of the occassional large, square glitter or the deep bronze glitters. This is also 2 coats...but not the typical 2 coats. To get these glitters to lay right you have to kind of dab them on and manipulate them into place. It takes a little more effort but it is well worth it.
Also, please excuse the weird clean up on my middle finger. I had a rogue hair on my clean up brush that took off a little too much =/
Tuesday...the gateway to Wednesday and the middle of the week! Enjoy!