Sunday Funday!! Hope you all had a great weekend so far and are looking forward to smooth upcoming week.
So, I'm sure everyone has been drooling over all the sponged gradient mani's lately...or at least I know I have been. Here is another take on it that I did last weekend.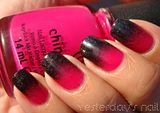 This is China Glaze Fuchsia Fanatic and Finger Paints Black Expressionism (one of the best, cheaper black cremes in my opinion). I also added a touch of Hits Speciallita No Olimpo: Zeus on the tips.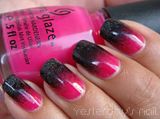 I really liked this but I think it would have been better if I added a third color between the pink and black to make the transition smoother. Trial and error...that's the fun part of nail art and polishing!
P.S. I've updated the blog sale again. Nothing major, just added a few new items and lowered a few prices.
Thanks for looking!