Hump day is almost officially over!! Yay!
This polish I am showing you today has a little bit of a funny story behind why I bought it. This is Gloria!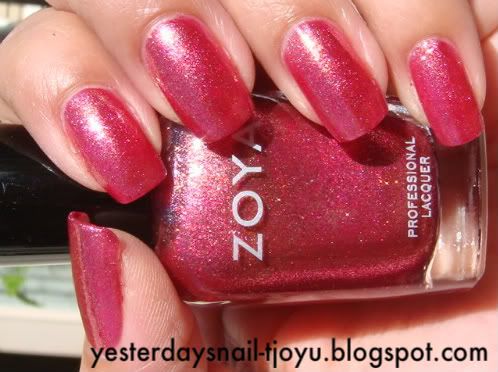 2 coats and this is without a top coat. I love the gold flecks in this one. There are a lot of them and it almost looks like a 50/50 mix of gold and the base color. I love this finish! The base color reminds me of a very deep rose gold. The application on this was very nice. Both coats went on evenly and the formula was very easy to work with in general.
Now, on to the story. When me and my man started dating several years ago he was trying to protect my identity from his psycho drama ex. She knew who I was so she would have likely done very bad things if she found out we were dating. So, I became "Gloria". Everytime she would try to get information from him he would always refer to Gloria. We all laughed about this for months because she became obsessed with finding out who Gloria was and eventually left us alone. I know, silly story but I always chuckle when I hear the name Gloria. And, of course, when I saw that Zoya had named a polish after my code name, I had to have it! Now if only they will make a polish named after my legal name!! (Hint to Zoya....a polish named Tara would be awesome!! Even more so if it were a really vibrant, in your face color with one of those awesome glass flecked finishes!!!)
Hope you have a great finish to your week!