Happy Friday everyone! My nails and cuticles are finally back in nice enough shape to start taking photos...YAY! Not to mention I finally have a little time to shoot and edit shots, I think (HOPE) I am back on the road to blogging again!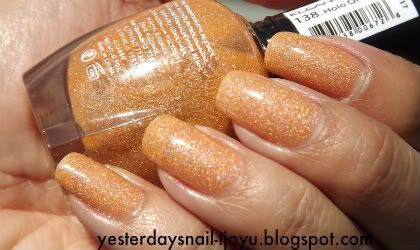 KleanColor Holo Orange. This is 3 thin coats with my regular base and top coats. This polish was a bit thick but relatively easy to work with. These KC holos are actually pretty nice! Packed with tiny holographic glitters that are smooth and offer a very pretty scattered, yet dense holo effect. As you can see, I still have a little VNL so if that bothers you...use an undercoat.
Here is Holo Orange a few days later with some Kiss Halloween decals. I know, not very original or artistic but I love the simplicity of decals and the skulls are so freakin' cute!!
Have a spooky but safe Halloween weekend!