Hey there!! I'm back! I had taken a little personal time because I started a new workout program. I figured it was time to get off the couch and get back in shape before summer is over! :o)
Here are the rest of my Diamond Cosmetics NOTD's. I still have a few more DC polishes in my stash but chose not to post about those yet.
Matte Black Shimmer. This was released as a limited edition and is no longer available. This has a very pretty but very sublte multi color shimmer to it. Unfortunately the sunlight just gets eaten by the matte and you cannot see the shimmer. I've found the shimmer shows up best when you put a top coat over it. It's still one of my favorite black mattes!
Mystical Knights. This is a gorgeous blackned blurple shimmer. Another gorgeous color but unfortunately, it looks like a black shimmer in lower lights. Regardless of this, I still really like it.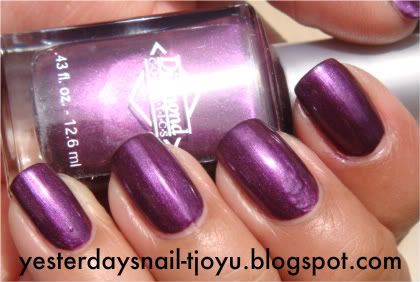 Monarch Masquerade. I love this color of purple! In the bottle this looks like it would be super frosty but on the nail it translates as a smooth, shimmery, un-frosty frost! Beautiful!!
Crushed Velvet. Deep. dusty purple creme. I think I have a few dupes to this but the formula really makes this stand out. Super smooth and only needed 2 coats.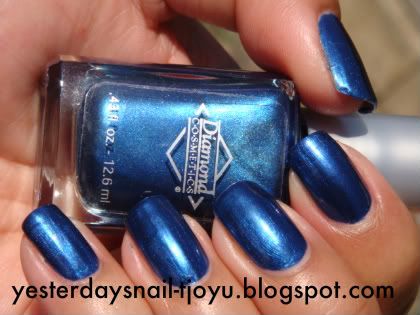 Metallic Blue. Stunning blue which manages to not look frosty.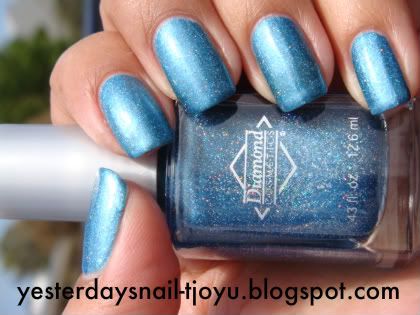 Blue Diamonds. I am not too crazy about the base color of this blue but the holo glitter makes it better! Too bad there was not enough bright, direct sunlight to capture the holo glitter.
Again, all these Diamond COsmetics were purchased by me and I am not reviewing these for the DC company. I just have a love for their polishes! They can all be found at on the Diamond COsmetic website and are only $2!
Next post will be back to my regularly scheduled nonsense!
Hope you're all having a great summer!!