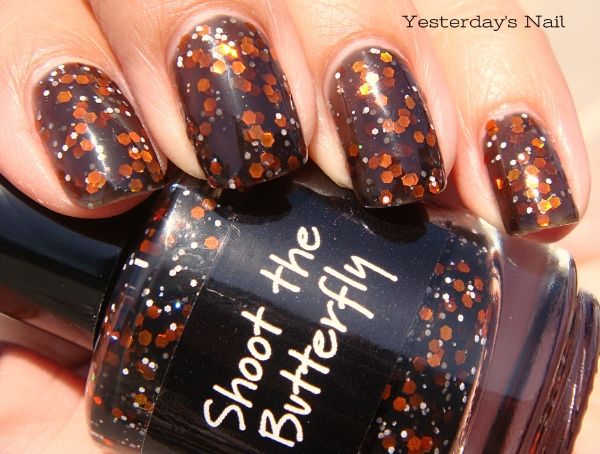 3 thin coats. Pure perfection! This is Cowstoes: Shoot The Butterfly from the new Spring This collection. The name of the polish fits the color and concept to a T.
A very squishy black jelly base with medium sized orange holographic hex glitters, tiny white matte glitters and a sprinkling of blue/violet iridescent, translucent glitters.
The 1st coat lays down very patchy and uneven...as most jelly finishes will. The 2nd coat filled in the patchiness but, the base was still too light for my liking. The 3rd coat made it perfect! The polish flows nicely from the brush as I did not have to fish for any glitter. The orange hexes did tend to clump together in small patches at times but they were easily repositioned with minimal effort. I only had to use 1 coat of top coat (Hong Kong Girl in the case) to get it 95% smooth. I can still feel the shape of the glitter on some nails when I run my finger over a nail but none of the edges are sticking out. For my tastes, I would still consider this completely smooth with the single coat of top coat.
This collection will be available for purchase wherever Crowstoes polishes are sold. I can't wait to try out the rest of the collection! There is a purple and a couple of nudes that are especially calling my name!