Quick and dirty post and run. A request was made for a comparison between Lynnderella's Bride of Franken versus Darling Diva Polish's Carrie. I happened to have both handy so I figured I'd give it a go.
First up, bottle shots. BoF on the left, Carrie on the right.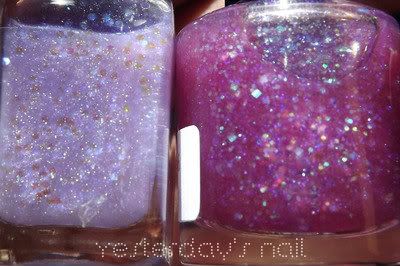 Again, but in different lighting.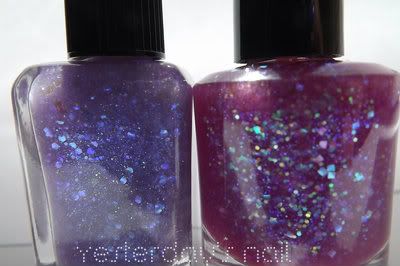 From the bottles, you can see the base colors are different. BoF is a very pale violet/lavender shade. Carries is more of a magenta/pink. The glitter shapes are different as well. BoF has micro glitter and small, iridescent hexes. Carrie also has micro glitters and iridescent hexes with the addition of square iridescent glitters and possibly another shade of iridescent hex which appears to have a green/gold/red shift to it.
Here are some nail swatch shots. Please excuse the awkwardness of the shots...these are my right pinky and ring finger you are seeing. They were swatched over 2 coats of Nails Inc. Baker Street...which I will review soon.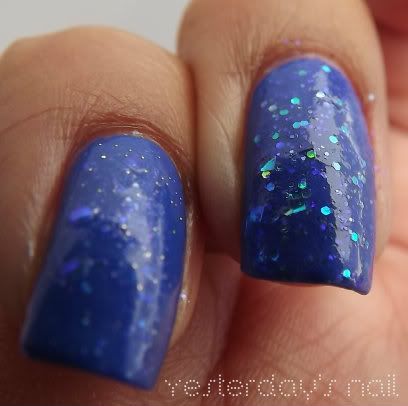 1 coat of each here, no top coat. BoF on the left, Carrie on the right. Carrie has more glitter in it which is evident at one coat. Both of these needed to be lightly dabbed on to get everything on evenly.
2 coats each here, no topcoat. Again, you can see the glitter is denser in Carrie.
So, my conclusion....these are absolutely not dupes nor are they close to being dupes other than they both appear to have some disco glitter in them. They are both gorgeous and I would never replace either in my collection.
Darling Diva Polishes can be purchased on etsy at:
http://www.etsy.com/shop/DarlingDivaPolish
Lynderella polishes can be bought exclusively on ebay.