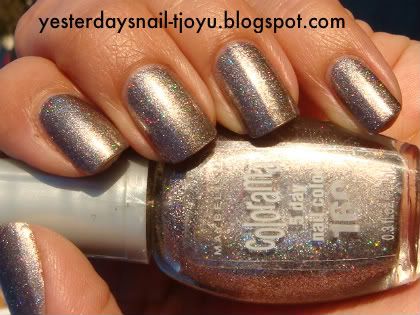 Love, love, love me some Colorama's!!! I had been on the hunt for this particular color for about a year and one day it magically appeared in my mailbox!! Never under estimate the power of nail polish love on the MUA nail care board!
This is 2 coats of Steel Wheeling over 1 coat of Icing Metalhead. Steel Wheeling on it's own is rather sheer and would probably take 4 coats to be opaque. Seeing as these bottles are so small, I didn't want to use it all up on a 4 coat mani! This is a warm grey shimmer with tiny holo glitter sprinkled throughout it. There are about 4-5 other Colorama's with this same finish...I'll have to dig them up and show them to you when I get the chance.
This is going to be my new nail length, if not shorter, for now. I recently started to train for roller derby and I don't want to take the chance of breaking nails. I refuse to stop polishing, but I am okay with having sexy nubs!!