What?! Is it really a new post?! I have finally found a bit of time to do a nail post but I feel like I don't know how to write...here goes...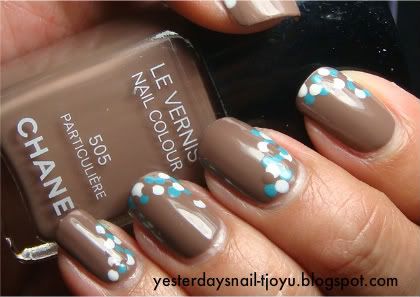 This is Chanel Particuliere with white, teal and more Particuliere dots. I saw a very similar mani on the MUA nail board earlier in the week and fell in love. This is my version of that. The white I used was NYC Little Italy and the teal is Diamond Cosmetics Meagens something...I forgot the whole name. I was amazed at how well this wore. I put Particuliere on on Monday and added the dots on Wednesday...this shot was taken this evening (it's Sunday) and I have no tip wear or chipping. I'm amazed!! Don't be surprised if you see more of these dotted mani's from me because I love the look!
Hope you all have a great week.