Ahhh...Wednesday! My one day a week I get to sleep in, watch junk TV and *try* to get caught up on blog reading and trying to write new posts. I had recently saw a tutorial link on Pinterest for a sponged on gradient mani. I immediately had a need to try this for some reason. Sounded easy enough...and it was! The hardest part was trying to pick complimentary colors. Here's what I came up with.
The colors I used were (lightest to darkest) SH CSM Lavender Cloud, Essence A Lovely Secret, Nails Inc St. John's Wood, Revlon TS Royal and Verity Deep Violet. The Verity basically applied as a tinted wash unfortunately so there is more Revlon on the tip than there is Verity =/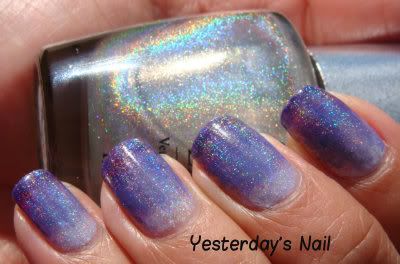 I topped the whole thing off with OPI DS Shimmer to blend the lines even more. I ended up loving this look and color combo! I tried this look in pink as well...which I will be posting about next time. Have a great one!! P.S...as usual, check out my blog sale. I have added a few new items and will continue to do so until I get my stash better under control.