Today I have another Darling Diva Polish to show you. I am loving all of these indy polish brands lately and am almost on glitter overload! There are so many new indy polish artisans popping up so fast it is hard to keep up. DDP is just one of the few that has caught my eye recently.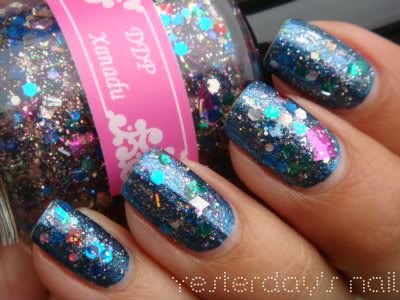 This is 2 coats of Xanadu over 1 coat of WnW Chrome: Grew Up In Cobalt-Imore. Xanadu is a clear polish that is packed with various sizes, shapes and colors of glitter. There are teeny, tiny silver holo glitters. Blue and silver medium hexes. Silver holo diamonds. Medium red squares. LARGE hot pink squares (LOVE these!!) Silver/holo bar/strings. If I can remember correctly there is also some green glitters, maybe a touch of gold holo and something else I am not remembering. I am loving the way all the random glitters play together!
If you notice in this photo...my cuticle line is waaaay grown out. I painted my nails on a Sunday and took this photo on a Thursday. I usually have lifting and peeling with most glitter polishes. For some reason, this combo did not have that problem.
Darling Diva Polishes can be found on etsy at
http://www.etsy.com/shop/DarlingDivaPolish
I have purchased these polishes on my own and am offering my personal opinion on them...and my opinion is that cerealkiller1 has come out with a very nice, quality product again!!