Have you ever wished you could find a good dupe to the infamous Clarins 230? I think I have found a nice substitute to get a very similar effect.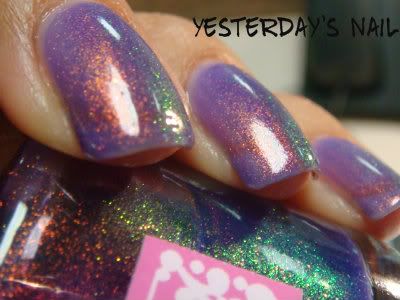 Look at that gorgeous color shift! The base color is brighter and more violet than my bottle of 230 but, that's what makes Ringer very unique and beautiful. This is 4 coats of Ringer with my regular base. I didn't want to layer this one for this post so I could show how the polish looks on it's own.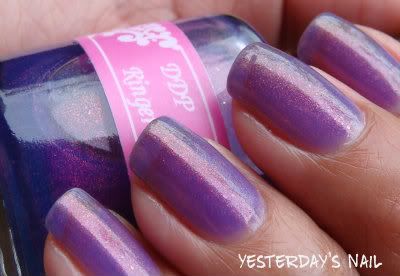 The main shimmer color you see it the red/purple color. This is visible in most lighting situations. You can get the blue and green colors in lower lights and when your nails hit certain angles.
Even with 4 coats this is s sheer polish. It would look great for jelly sandwiches or layered over a darker base. I really liked the look of the 4 coats. The base color is so vibrant and happy! I did not have any issues with how this polish applied. All coats went on evenly and built up nicely. The drying time was average.
I leave you with some more swatch and bottle shots!!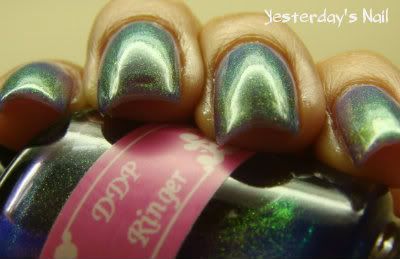 And, a bottle comp shot of Beyu 209, Clarins 230, DDP Ringer and Max Factor Fantasy Fire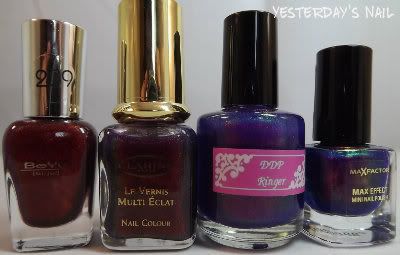 Darling Diva Polish can be purchased at:
http://www.etsy.com/shop/DarlingDivaPolish