Happy Saturday everyone!
Are you over magnetic polishes yet? Just when I thought I was, Nails Inc comes out with a new design.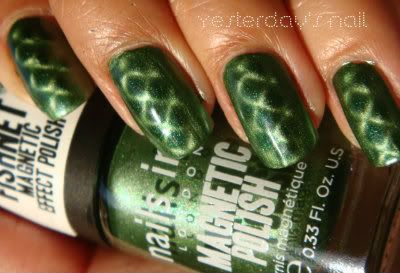 FISHNET!! I love this design! I think it is tied with the star pattern as my favorite.
This is 2 coats with regular base and top coats. I don't know if you can tell but, the design does not wrap all the way across my nail. My nails are too curved for most magnets but I still love the look of it. The Nails Inc magnets themselves are very nice too. They seem like they have a stronger than average magnetic pull when you place them over the wet polish.
The fishnet magnetic also came in a charcoal and a chunky, gold glitter (Piccadilly). I picked up the gold but left the charcoal one because I already have a few charcoal magnetics...I can just use the Nails Inc magnet on those if I want. I found these at Sephora...$16. Not cheap friends!
Lastly, check out my blog sale tab up above. I've added some new polish and makeup items...maybe you'll find something you've been looking for ;-)