Hope you are all having a great 4th! Here is the next part to my Diamond Cosmetics stash.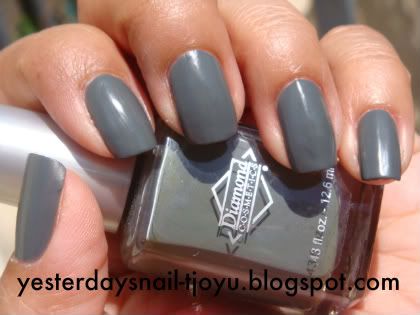 338 Matte Smoke.
This applied nicely for a "matte". No cuticle drag and it dried pretty quickly. I would not really classify this as a matte though. Maybe more of a satin finish or rubberized finish. I really likethis color...medium grey that doesn't pull blue or have warm undertones on me. This is 2 coats.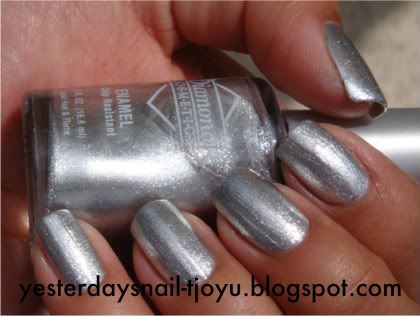 Sterling Silver. This one is in a different bottle style and was only $1!! Great silver foil. 2 coats to be opaque. Not unique at all but I love silver foil polishes so this was a nice addition to the collection.
310 Chainmail Charm.
This is what I'm talking about!! Beatuiful holo finish! I wish DC came out with a whole collection of holos...they got this one right so I'm sure they could do it. This is 3 coats. Very pretty muddy grey base color.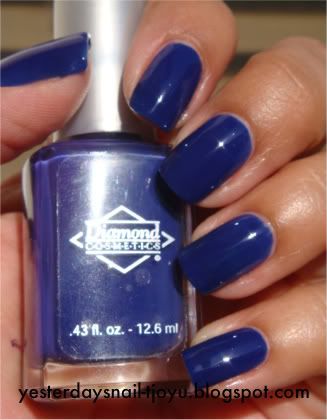 318 Not Your "Hum Drum" Plum.
Holey Moley...beautiful blurple jelly!! This is 3 coats. I am pretty sure there are dupes out there for this color but I am perfectly happy with this one. Non streaky and super glossy before topcoat.
Again, all of these apply so easily. Very even application and so far the brushes have all been uniform and consistent. Next post I will get into some of the purples and plums I have. I forgot how many great colors they had until I pulled them out and lined them up!!