Aaaahhh...Wednesday is almost over! Looking forward to finishing off the week so I can try to enjoy the sunshine and warm weather instead of being inside at work all day!
I'm taking a short break from my Diamond Cosmetics swatches. I will get back to them next week though.
This is an Icing I picked up a few weeks ago. Dark and Stormy. I don't remember seeing this one at Icing in the past few months. I found this next to the cashier in a clearancetub. It was marked down to $1.99 so I couldn't pass this up. It's an amazing find for only $1.99!! Beautiful deep teal shimmer.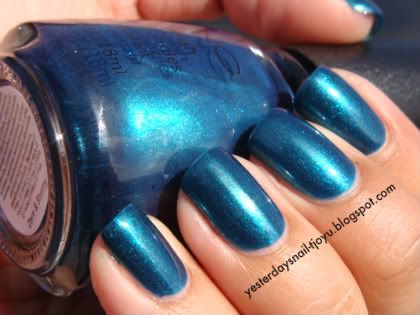 Here's a closeup to show off the nice detail of the polish. This was 3 coats. I wore this for 4 days without a chip or much tipwear...which I was happy about because the color is beautiful.