...and theres more...
309 Joust For Kicks. This picture doesn't really show it but this has a plum tone to the brown base. Very pretty gold shimmer. This one was a little think but, nothing a little thinner can't fix.
183 Metallic Venom. I love this shade of purple! In the bottle this looked like it would be very metallic and brush stroke city but I was pleasantly surprised to see it wasn't. Nice, thin formula with very good coverage in 2 coats.
346 Amethyst and Diamonds. I wanted to like this alot more...but it was a little to light. It's still a very pretty color but not quite my color of purple. The sparse holo glitter adds a nice touch though. This would have been a great polish if it was done in the same style as Chainmail Charm!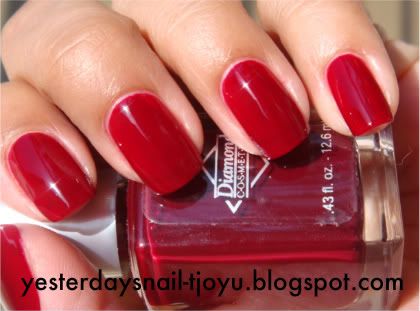 175 Venom. Georgeous, blood red jelly. This was 2 coats and I wore it for 4 days!!
So far I have found that most of these polishes wear very well. Minimal chipping and tipwear. I have noticed that the shimmers and more metallic shades chip a little quicker than the cremes.
Hope you all enjoyed your 4th of July weekend!!