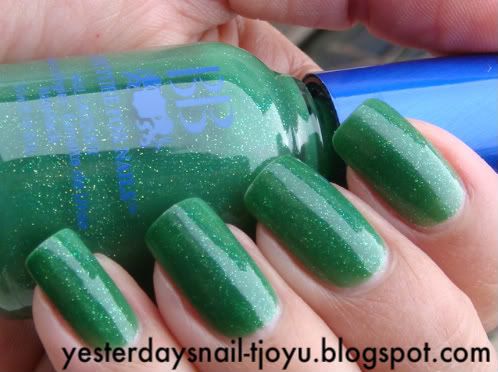 I am still wearing my St. Patty's Day mani! That's how much I really liked this green.
This is BB Couture Frosty Meadow. 3 thin coats. I am not sure if this is a jelly or is it just a sheer base with glitter...either way it is really pretty. It has teeny, tiny silver glitter which shows through the base color and makes it look like a lime green. I think there is also some aqua glitter in there too because at some angles you get pretty flashes of aqua blue. I only have about a dozen BB Coutures but I have loved all the ones I have worn so far!
I took this photo this morning and it is a bit overcast where I am. The good thing about that is the color came out almost perfect! This is the color I see when I am looking at my nails myself.
On a side note, I have updated my blog sale with a few items. Some high end, some low end...please take a look if you are interested in a little shopping. You can always check my MUA tokens (my user name is tjoyu) if you are not familiar with trading/buying from me. I am doing another PO run on Monday 3/21 so I could get anything out to you pretty quickly if you are interested in buying anything. You can go to the sale by clicking on the teal colored tab towards the top of my page.
Hope you all have a great Saturday afternoon!!