It's Friday already! Just finished up a home cooked meal and am watching some DVR'd shows to finish off the evening. What's going on for your Friday?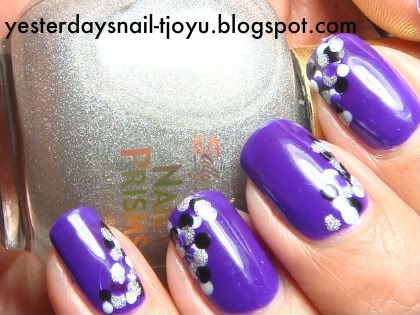 I had enjoyed my Chanel clustered dot mani so much I wanted to see if I could replicate the effect but with a different color scheme. I did not like the way this one came out in comparison though. I wouldn't call it a fail but it's also not a win for me!
This is the same base of Funky Fingers Riot. The dots are done with WnW Ebony Hates Chris, NYC Little Italy, Sally Hansen Prisms Diamond and more FF Riot then sealed with Barielle Speed Dry TC. The addition of the Prism Diamond was a fun touch in the sun but did not translate well in this photo. I wish I would have remembered to take full sun shots!
Hope you all have a great weekend! I know I will!!