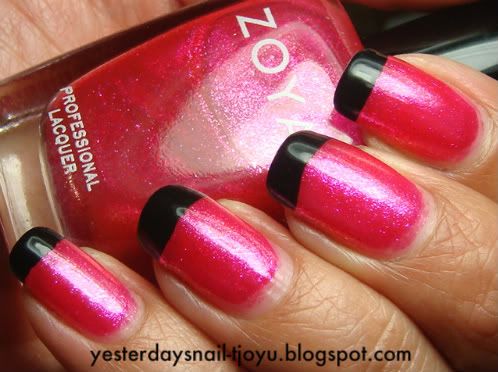 Ummmm, yeah....NO!
I always forget that SV does not play nice with Zoya!
This is 2 coats of Zoya Gilda. A gorgeous, glass flecked, hot pink polish. This applied very nicely. Even on the 1st coat and pretty opaque on the 2nd coat.
I wanted to do a black tipped funky french to match my derby team colors and thought it actually came out very nice...until I woke up the next morning!! It looks like a 2 week old mani without tip wear!! Unfortunately I did not have time to redo it and had to wear it out like this. The surprising thing is I got so many compliments on it! Either no one noticed or didn't want to comment on the very noticable shrinkage along my cuticle.
Lesson to myself...don't use SV with my Zoyas!!