Recently I ordered a few Ozotic polishes online from Picture Polish. They had amazingly fast turn around time. I think I had my polish on my doorstep in a little less than 7 days...which is saying a lot because they came from Australia!
This is one of 4 Ozotic's that I got...531!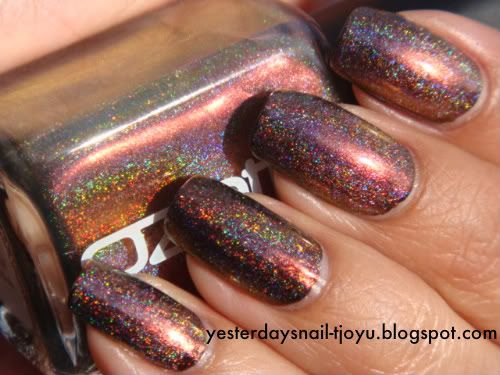 I am now officially calling this polish "Don't Lock Your Keys In Your Car"! That is exactly what I did when I was wearing this one =/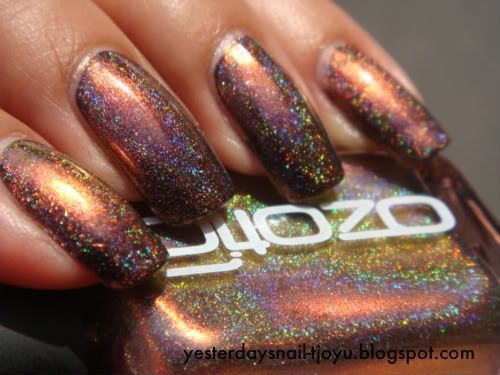 The good thing was I was in a Target parking lot connected to a mall so, if I had to use the bathroom or got hungry, cold, bored I could go inside while I waited for help to arrive.
The bad thing...my ex had the only spare key! Well, I DO have a spare but it was locked in the car in the glove box...where it belongs-right? Good thing I am on good terms with the ex because he and his girlfriend came to my rescue and brought me the spare...2 1/2 hours later.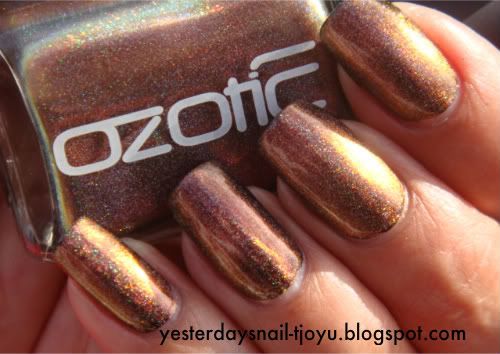 This is 1 coat of 531 over 1 coat of Illamasqua Boosh. The wear from this combo was excellent! I wore it for 4 days with no chipping and very minor tipwear. The color is very pretty and I like it a lot but...not as much as the other Ozotic Mish Mash polish I got! The color shift in this is amazing! The predominant color I see is a rusty/brownish/maroon but at different angles you see deep purple, gold and a bit of olive if you squint real hard! In one of the pictures you can see the color range in the bottle. Oh, and did I forget to mention that this has a nice sprinkle of holo particles in it too?! It's scattered but still the linear type of holo...if that makes sense.
So, what else could you ask for...multichrome and holo rolled into one! I say it's a win-win all around!
Have a great Tuesday!