FYI...I edited this as I realized I used the wrong link code for the picture! So sorry!!
Happy Saturday!!
Today I am wearing a combo for a special reason! Today is game day!! Today is our last away game of the 2011 season for roller derby. Our team colors are hot pink and black & white. I recently got NARS Schiap on a whim as I am not a big "pink" gal. Am I sure glad I decided to bet it because it is pure love!!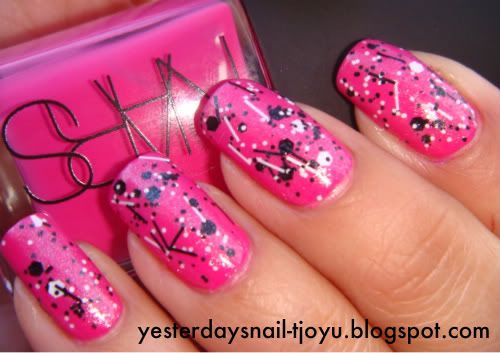 This is 2 coats of Schiap with 2 coats of Connect the Dots. Schiap applied amazing!! Smooth, even coats that felt like they were applying themselves. Connect the Dots applied like a standars glitter...needed to be dabbed on in some areas and the glitters needed to be pushed around a little but, the extra work was so worth it! I never realized the CtD had that amazing micro shimmer! It looks to be holographic or irridescent in some lights too...amazing!!
Now I'm off for a long drive down to San Diego for some derby!! Wish us luck!