Lately I have not been able to decide if I want to wear glitter or cremes. It seems like the glitters always win!!
This is 2 coats of one of the new Kardashian Kollection NOPI's. Follow Me On Glitter. I didn't get the name at first...duh!
This is a very pretty gunmetal and silver tiny glitter base with different colors of slightly larger glitters mixed in. So far I have seen dark pink, light blue, green, orange and gold. I SWEAR I've also seen a random red and silver glitter in there too!! I really could not tell if the base is tinted or colored because the glitter in this is so dense!! I think it has a dark grey tint to it though. The formula on this was easy to use but tended to clump up a bit by the time I started the 2nd coat. I think this may have been because the formula dried so fast. I used 1 coat of NYC Grand Central Station to top it off but it could have used another coat.
Here is what I added to it the next day: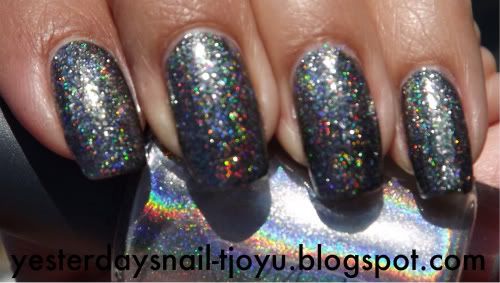 A single coat of Spectraflair topcoat! It is very subtle but it looked amazing in the sun! My camera went a little crazy hence the blur.
My Spectraflair is mixed into a bottle of NYC Grand Central Station...cheap but dries fast and is nice and shiny!
Hope you all have a great Sunday and those of you who get to enjoy DST...enjoyed your extra hour of sleep!!