Good morning manicure maniacs (I don't know why, but I love saying that...I say it in my head with a game show announcer's voice!!) I have had a very long but fun weekend and am now back to buisness =P
For today's "holiday" manicure I used a newer one from the '09 Nicole holiday collection. This is Bah Plum-Bug!
This mani was done on Thursday night but I was not able to get decent pictures until today because it's been partially cloudy lately. This is 2 coats and got 1 coat of Barielle Mani Extender on Friday. I am amazed at the wear I got out of this. Absolutely no chips and hardly visible tip wear! The last time I used a Nicole, it chipped within 12 hours so I was ready for Bah Plum-Bug! to chip within a day.
Here are a few more shots just because I really like this color!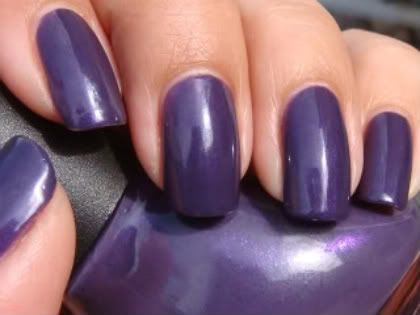 It's a slightly dusty purple with barely noticible shimmer. I still can't figure out if the shimmer is purple or magenta. I loved the formula on this and the brush was very good as it allowed me to put the polish exactly where I wanted it. The Nicole brushes remind me of old formula OPI. Here is a close up of the bottle so you can see some of the shimmer.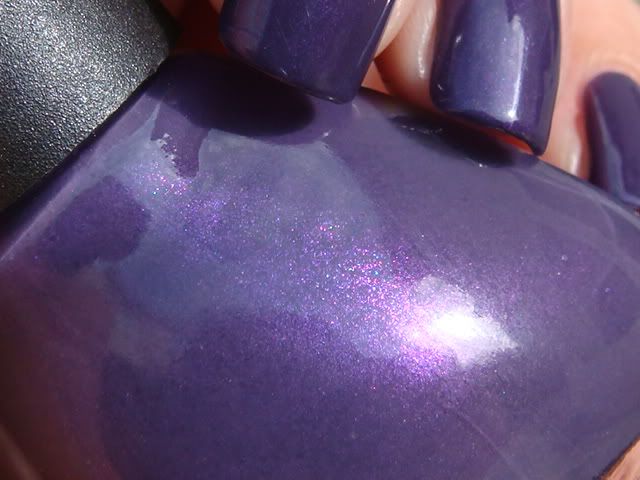 I am definitely looking forward to trying the green from this collection in hopes I have another good experience with it. Thanks for checking in on me today and hope you all have a great start to you week!