Good evening manicure maniacs! I've found this is the only time I can find to put up my new posts...it really sucks having a full time job which takes up 8+ hours of my day!! I KID, I KID!!! I am thankful to have a good job which allows to me to keep my home and a safe place to store my stash!!!
Today I have an OPI from last year's holiday collection...at least I think it's from last year if IIRC! This is A Ruby For Rudolph.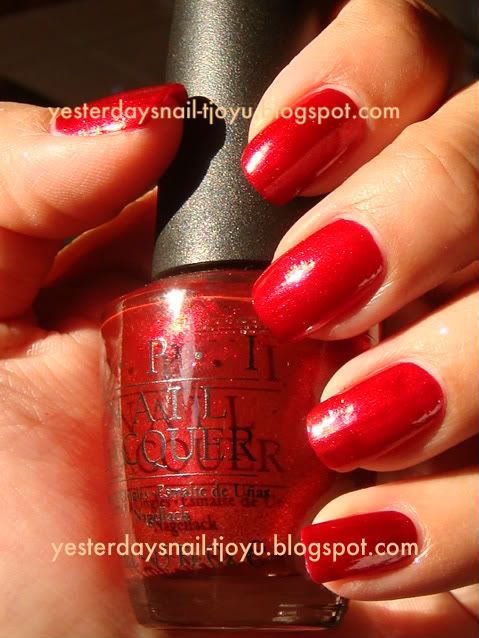 3 thin coats in direct bright sun. This was a PITA to try to photograph so I settled on this shot. It is a nice ruby red, shimmery base with an almost jelly texture and tons of thin micro glitter. I'm not sure what the color of the glitter is...come to think of it, it may fit into the glass fleck category. Whatever it is, it's gorgeous! OPI really knows how to do this kind of finish right in my opinion! (Think this years Smitten With Mittens and the ULTA exclusive Visions of Sugarplum)
Thanks for checking in on me this evening! So far, I have found I am able to make a little time each night to do a post. Most of the NOTD's you are seeing are swatches but they are done using my full mani ritual (base, ridge filler, color and quick dry TC) so I can show you the best repensentation of how it would look in real life! Stay tuned for more holiday colors!!!