Hello and good evening manicure maniacs!! This evening I have a gorgeous green for you. It took me awhile to get up the nerve to wear green nail polish but after a few green mani's a few years ago it has become one of my top 3 color choices!
This green is from the '09 Nicole holiday collection which also includes Bah Plum-Bug!, a silver + holo glitter and a gold + holo glitter.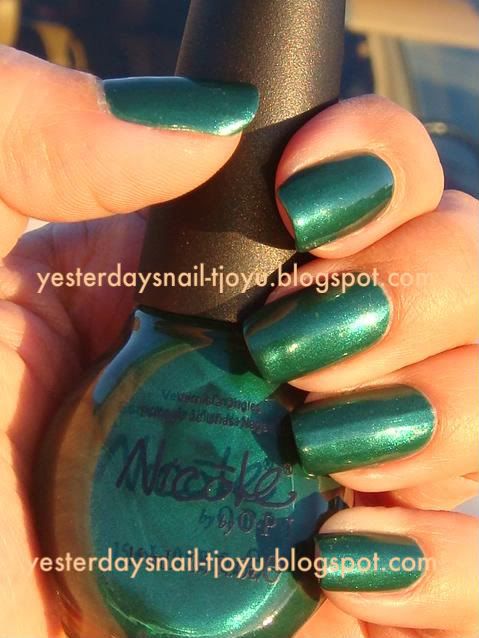 This is 2 coats in direct sun. I was very hard on my hands before taking this photo so the mani looks a little worn. And I accidentally used my Seche Vite bottle which is reserved for the toes...it's a bit thicker and bubbles if I'm not careful.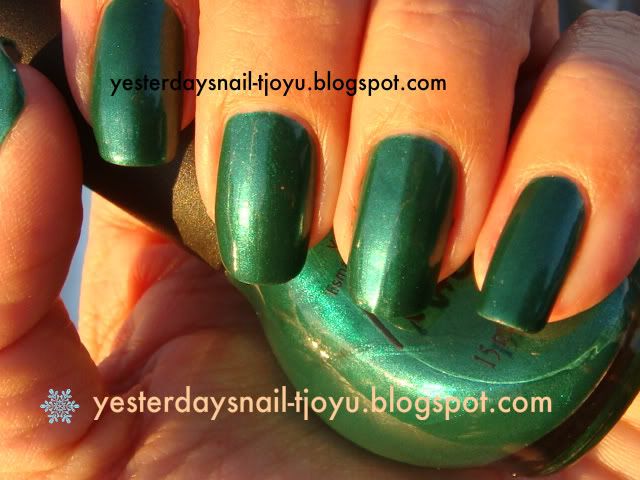 I would classify this as a frost but it's not one of those gross, grandma hands making frosts! This has a nice glowy quality to it and a little bit of micro shimmery bits if you look real good. Again, this formula was very nice and the brush helped me apply it where I wanted it.
Hope you are all having a great week! I am getting ready to go to Memphis, TN on Thursday for my hubby & my birthdays! I am also (hopefully!) going to be able to meet up with a fellow MUA'er whom I've had the pleasure of swapping with several times. It's always nice to communicate with her through our swap process so it should be fun to meet in person! Hopefully we can do a little dusty hunting together because she has found me some amazing treasures in her neck of the woods!