Happy Friday everyone!!!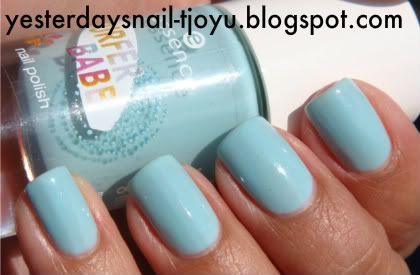 I really liked this color! The man of the house happened to choose this one and I think he chose wisely!!
The World's Coolest is a light blue that has just a touch of grey and a tinge of green which makes it a little dusty IRL. This is 2 coats. It applied very evenly except the brush bristles were cut on a slight angle so it was hard to get a straight line at the cuticle without having to use a clean up brush afterwards. This is not the 1st Essence polish I bought that had an angled brush...maybe they are meant to be that way? The Surfer Babe collection is a LE collection I believe and I found this at Ulta for $1.99. The bottle is 8ml which is smaller than average but for $1.99, the price is right!
Have a great weekend everyone!!