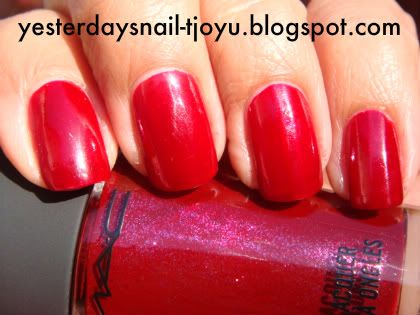 Did I really need another red glittery polish? After seeing this one, I would say YES!
This is 2 coats...but it could have used a 3rd. This is a nice, true, blue based red with shimmers that remind me of glass flecks. This shimmers have a uniform shape like glitter but are not gritty at all. You can see them in the bottle very clearly but not on my nail in this photo very well...she was a little hard to photograph!
The MAC formula has been getting better IMO. Some of the others that I have are a bit thick and goopy. This was thinner than previous polishes and applied smoothly. I really like the brush on the MAC polishes but I hate the way the round cap feels in my fingers as I paint. Enjoy!!