Yes, I have changed the look of my blog. I am experimenting a little as the last layout was super generic looking...well, more generic looking than this. I was looking for something with a white background to have a better background for the polish colors. The purple-ish background was clashing with some of the photos I thought. How's this one? Any suggestions? Yay? Nay?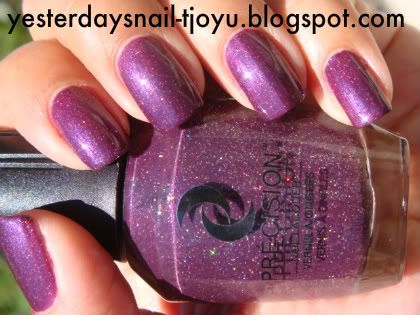 This is Precision Twilight Zone. I don't know why I had been saving this for so long. I love purple and I love holo and this has both! The base is a shimmery metallic base...maybe bordering on the verge of being frosty? Even if it is I still really like it! The holo glitter is tiny and sparse but really sparkles in the sun. This is very close to an older China Glaze whose name escapes me at the moment =/
3 thin coats as this polish is thin overall.
Have a great weekend!!