Good Morning! Happy Saturday and yay to getting to sleep in!
I was going through my photobucket and noticed I had a few photos I hadn't edited or uploaded. What an easy way to get a post in and show a couple of colors I haven't yet!
Zoya Valerie. This photo does not show this polish's gorgeousness at all! And to top it off, my photo has a slight blur to it...not as crisp as my photos usually are. Anyhow, this is 2 coats. The base color is a darkened purple/plum color. This has a fleck finish and the fleck have a slight gold cast to it. You can really see the halo of gold in the bottle...but not in this photo unfortunately =/ This applied extremely smooth and even with 2 coats.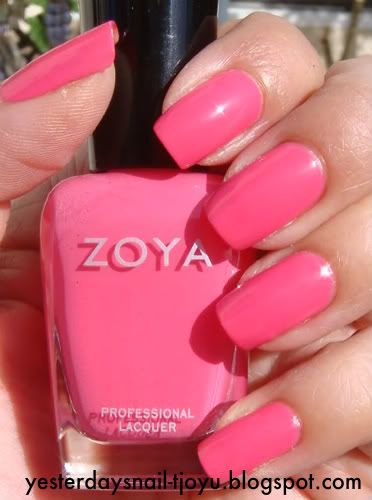 Zoya Lo. This one is bright it freaked my camera out a little! It is not quite a neon and did not dry with a matte cast like most neons do. Rather it is a very, very, very bright pink but it also has a slight dusty cast to it which keeps it from being too obnoxious! This was another one that applied so nicely. 2 coats, both went on extremely easy and even. This photo is actually without a top coat yet. I was pleasantly surprised by the shininess of it without a top coat
Hope you all have a great weekend!