Howdy do!! Saturday night and I'm sitting in front of the compute AND watching a movie (The Other Guys...so far, so good!)
Today I have my 1 st attempt at a tape mani. I decided to do a 3 color, diagonal stripe because 2 didn't seem like enough and 4 just felt like too many...or at least that's what I keep telling myself!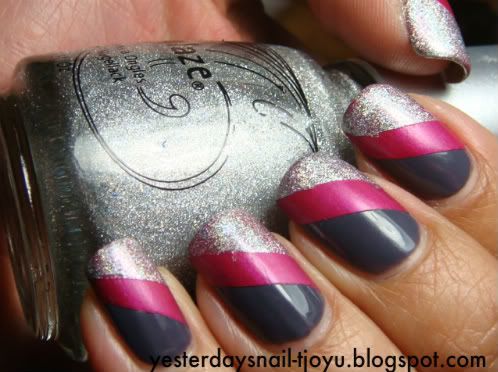 Base color is Ulta Smoke Screen
Middle color is OPI La Pazatively Hot Matte
Tip color is China Glaze Sexagon
Tape mani's are a huge contradiction to me...they are so simple yet very hard. First off, this does not work with a matte finish tape. Use the shiny tape!!! Polish ate through the matte finish tape and my middle, index and pinky fingers paid the price for that mistake! Other than that, it just takes time and patience to get a fun tape mani!
Hope you all have a great Easter if you celebrate it, otherwise have a great Sunday!