Happy Sunday!! I have a had a great weekend and am looking forward to a really good week!
I have been sitting on this post for a few days because I really did not know what to say about this polish that I haven't said about other polishes. I never realized how difficult writing new post were until I started doing them! For those bloggers that have been doing this for awhile...word up!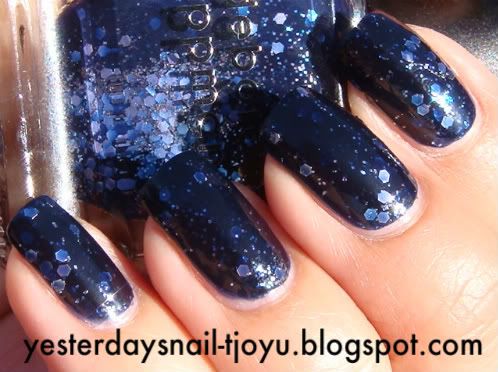 This is DL Lady Sings The Blues. It came in a trio which was a Nordstrom's exclusive around Christmas time I believe. The other 2 colors in the trio are Razzle Dazzle (a raspberry jelly with dark pink glitter) and Some Enchanted Evening (a salmon pink glitter in a clear base). I have not tried the other 2 colors from this set yet but they are very pretty too!
Heres another shot just for the fun of it!!
This is 3 very thin coats with the usual base/top coat combo. This wore decently but I did get some tip wear within 24 hours. I really love these jelly/glitter combos that DL has put out...well, with the exception of Funky Chunky!!
Have a wonderful week!!