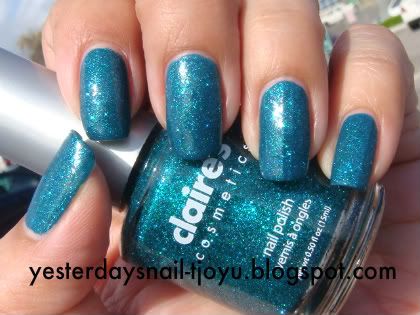 I love this combo!! I was looking for something glittery and sparkly to wear for a night out on the town and this is what I came up with. 1 coat of AA Peacock with 1 coat of Claire's Glam. The result was a gorgeous teal bling smack! Both polishes applied very well and since they are only 1 coat each, this manicure dried fast and I was out the door!
The AA polishes are all creams and so far they all apply very nicely.
The Claire's glitter is a medium density tiny glitter. The base is tinted the same color but way too sheer to be considered a jelly IMO.
This manicure made my Monday!!