Hey ya'll! I know these are not old but rather, just released BUT I could not pass them up and had to use them right away!
This is Orange Pop. It smells like orange soda to me but the SO said it smelled like a Starburst candy dipped in alcohol! What does he know anyways?!?! I don't usually go for oranges but the possibility of having orange scented nails is what got me. Good thing I actually liked to color. It's more of a coral orange than a true orange so it went with my skin tone pretty well. It looks like a hardcore frost in the bottle but applied smoothly with very minimal brush strokes. This is 3 coats.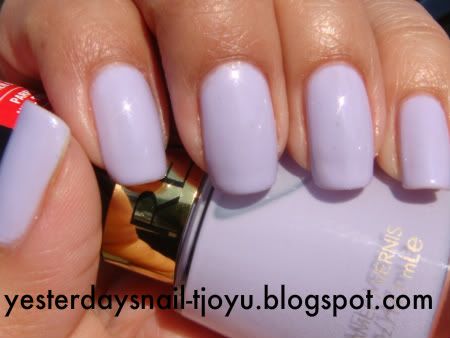 This sweet thing is Gumdrop. It is a very pale, blue toned lavender. I am all about the pastels right now...they remind me of spring and Easter. I really love this color BUT...it was streaky and thin. This is 4 coats and it probably could have used a 5th! The scent on this is a very nice vanilla/sweet smell.
If you are wondering...both of these have a coat of Seche Vite and the scent still comes through the topcoat.
These really give new meaning to the phrase "smell my finger"!