Happy New Year everyone!! I thought I'd start of my year with a post just to get my blogging year rolling.
This was my NYE mani...which I had on since 12/29. I wanted to change out to something with more bling and sparkle but this held up so well I figured I'd get as much mileage out of it as possible.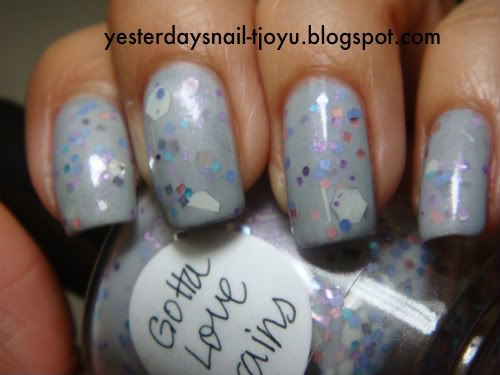 2 coats of Misa Grey Matters topped with 2 coats of Lynnderella Gotta Love Brains.
I really hated the application of the Misa. It was very watery and uneven on the first coat and still a bit uneven on the 2nd. In the end, it didn't matter because it was just being used as the base for the Lynnderella.
I have gotten so many compliments on this combo...as well as the other Lynnderella combos I have worn. I usually have a hard time trying explain to someone what I am wearing because most people have not heard of some the brands that the nail obsessed deal in. I have written down Lynnderella's blog site down for a few people and warned them that they have to monitor her site regularly if they want to own some of her amazing creations! But isn't it worth it?
Hope you all had safe New Year's Eve celebrations and are starting your year off right!