I finally have a sane moment to sit down and write a new post! Between all the extra skating I have been doing (I am getting ready to take the 2nd part of assessments for my derby team to test if my skills are up to par to bout some more this season!!! So excited!!), a broken washing machine which has now taken 5 days to get replaced...I haven't been looking forward to doing laundry in a very long time!! Also, working long hours has been kicking my butt lately. Trying to balance work, play and love is challenging but oh so fulfilling!!
Here are my opinions on one of the new Revlon Colorstay polishes. I wanted to give this a fair chance as the claims tout 10 days of chip free wear if used with the Colorstay base and top coats.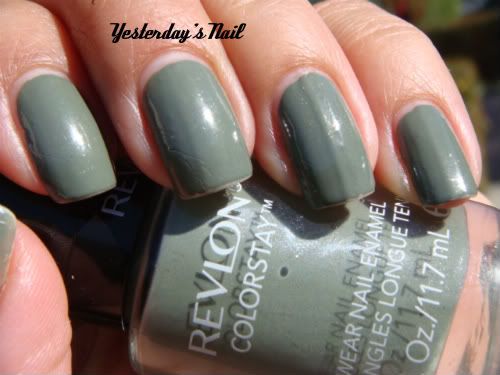 This is 2 coats of polish between 1 coat each of the base and top coats.
The base has a milky appearance which made me think of the aqua bases that you *need* for linear holo polishes. I am hoping to do a comparison of an aqua base -vs- the Colorstay base to see what the differences may be. Also, the base is slightly thick which made me think it had a bit of a ridge filling benefit to it.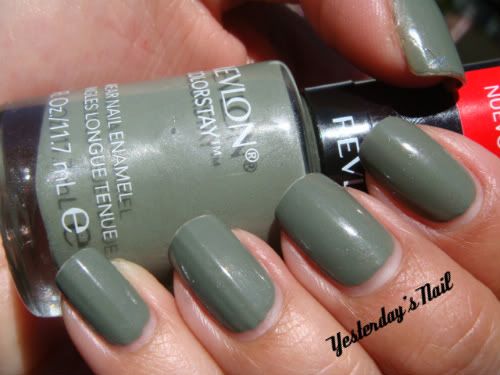 This took several hours to cure. Once it cured it had settled a bit so my nail ridges were not completely filled in like my usual base coat combo does for me. I went to bed and it was dry to touch...but not completely set.
These photos were taken on day 6 of wear. 6 days of no chips is a big deal for me. Not that I really like wearing my polish for that many days, this can certainly come in handy for travel. Regular polish usally starts to crack from normal wear and tear...usually from moisture expanding the nail then shrinking them when they lose the moisture...if that makes sense! This showed very minimal of those cracks at day 6. Whatever is in this makes the cured polish flexible enough so it doesn't chip or crack. Also, I had pretty minimal tipwear even though I was sure to not baby my hands.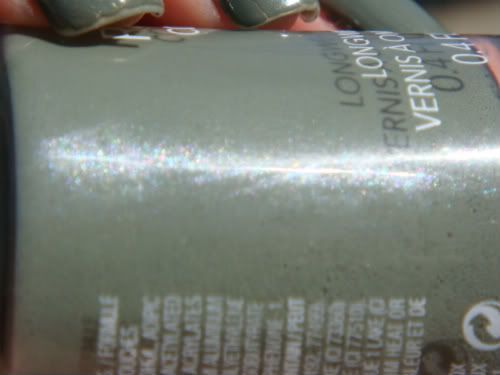 Here is a close up shot of the bottle of Spanish Moss. In the 1st 2 photos, it looks like a dusty, pale grey/green. I did not realize this had super, micro, hidden shimmer in it! The day after I applied this is when I noticed. You can see all the little shimmers in the close up shot...pale green, pale pink and silver. Super subtle but still very pretty.
All in all, I really like these new Colorstays. They are a bit pricey for a DS polish...around $8-9 at major drug stores. WalMart has the lowest price point I have found so far at right under $5. Keep an eye out for those Revlon coupons or BOGO deals if you really want to try these.
Happy Saturday!! I am getting ready to head out to Ikea in a few hours for alittle BFF excursion. Wonder what I will be bringing home with me....