Welcome to the jungle...king of the jungle...jungle boogie...deep in the jungle...
The name of this polish had me thinking of all the "jungle" sayings I could come up with!! OK...to keep with the jokes, this polish is kind of a joke. I had been wanting this forever and finally got it from a generous swapper on MakeupAlley.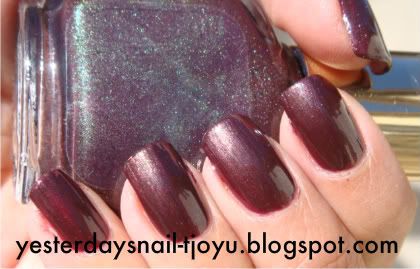 If you look at the bottle it has a very cool green sheen to it. Unfortunately it does not translate to the nail very well. The base color is a muddy plum color. The coverage on this was not very good either as you can see on my pinky...and this was 2 coats. I usually love most old Maybellines but this one...not so much. Back into the swap box this will likely go.