Today I finally have a little bit of Japan to show you! I was a little bummed at my small haul I brought back from Japan but what I did bring back made me happy.
These are all from a line called Nail Sparks. None of them had names or color numbers on them so I really don't know how to label them. I think I'll keep it simple and just use the color as the name!
This is Fucshia Spark! This is only 2 coats and could have used a 3rd to be completely opaque. As you can tell, there is still VNL with only 2 coats. This is a very pretty, bright fuschia with a ton of small shimmer and larger glass fleck shimmers (which unfortunately got a little washed out from the bright sun).
This is Purple Spark! This is 2 coats and was completely opaque. I love, love, love this color! I love purples in general and this one did not disappoint. I'm sure I have something similar to this in my stash but nothing is an exact dupe. This also has that same shimmer/fleck finish to it.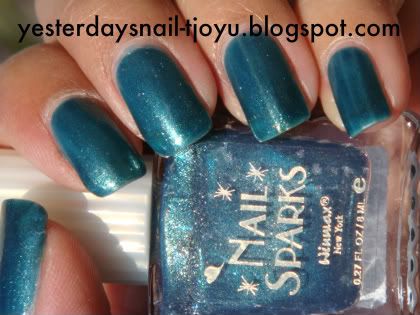 This one is my favorite of the 3 I have shown you...I call this one Tesl Spark!! This is 3 coats...and a little tip wear (sorry!!) as I wore this for 4 days! I actually took this shot on the 4th day too! Again, same shimmer/fleck finish but in a gorgeous teal green shade! I think this may be similar in color to Shina Glaze Watermelon Rind but I have not compared the 2 yet.
I bought all of these at a Daiso in Machida, Japan. A Daiso, in case you are wondering, is basically a GIANT dollar store. The majority of the items are 100 yen (roughly $1.15) so I stocked up on as much as I could carry in my luggage without going over weight!
Hope you're all having a great week so far!!