Happy Thanksgiving everyone!!
Here is a great oldie but goodie I wore late last week.
This is 2 coats with my usual base and top coat combo. Streewear's formula is that old, thin, easy to use chemically loaded formula. I love the blue flash in this...it almost has a teal cast to it. Very pretty!!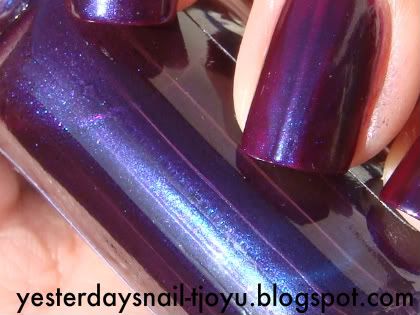 Here is a closeup to hopefully convey they pretty blue/teal flash.
I really love old Streetwears! Not only did they have great colors but they were very well proced even for the late 90's when they were around. Thankfully, you can still pick a lot of these up online for a reasonable price. I am thankful that I have met some wonderful friends on MakeupAlley that have helpd me through swaps, RAOK's and sales to gather a very nice little collection of Streetwears.
Also, please check out my blog sale
HERE
!! I have added a couple of new things and plan to update it as I continue to clean up, organize and purge my stash.
Have a great Thanksgiving and be safe out there if you plan on doing the crazy Black Friday madness!!