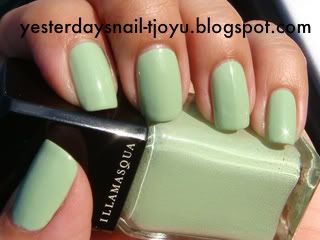 Happy Thursday...or at least it is for me! Only one more day of work and I will be free to sleep in and stay up late...for 2 days. Anyhow, ON TO THE POLISH!
This is Illamasqua MILF. I love the Illamasqua formulas. Very easy to work with and I love the bottle shape. Too bad they are slightly smaller than a regular polish but the formula and colors make up for that.
This is 2 coats. The 1st coat was a streaky mess but the 2nd coat made me forget all about that. The color looks a bit more puke-y in the bottle but turns into a nice, creamy pastel mint on the nail. I got this as a RAOK from a very generous fellow nail polish freak! I am so glad it has made it's way into my collection.
Have a great Friday!!