Happy Sunday! Hope everyone is recovering nicely from hangovers, overeating or staying up too late...I know I am recovering from at least 2 of these!
I was in the mood for a bright, glowy purple today and I just happened to have this sitting on my counter! This is Quirius Eggplant. 2 coats and under murky sunlight (its slightly overcast here today, getting ready for the next round of rain)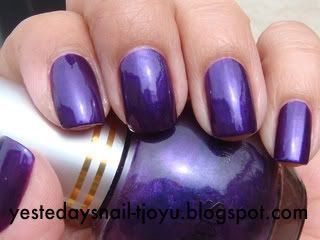 I had never heard of Quirius polishes until a couple of months ago. I have 2 of them but after using this I think I'll be looking for more. The formula is nice though slightly thick. The application was easy and smooth and required minimal clean up.
I went online today to see if I could get some more of these but sadly the online store is down until 4/10/10. If you're interested you can still view the website and see what other colors will be available. www.qnail.com
I am in no way affiliated with Quirius or qnail. The polish I used for this post was obatined through a trade on MUA and I did not purchase it.
Hope you all have a great week!!