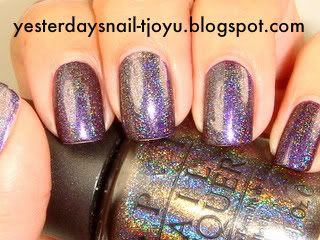 Ok, this is a total I'm-too-lazy-to-do-my-nails manicure! All I had to do was add a single thin coat of OPI MPJ and voila!!
This is the charcoal based holo shimmer MPJ. I love how it darkened Eggplant but still let a little of the purple peek through. It's a perfect vampy holo color for me.
WHY did OPI change the formula on this? That is the $1,000,000 question! This was taken under a too bright daylight lamp because it's raining here today. I've actually had this on for 3 days now. I put 1 coat of MPJ over the existing color and 1 coat of the Supply Source "David" top coat. I have not had any chips or shrinkage and very minimal tipwear.
Enjoy your Wednesday everyone!!